I am reading loads of blogs from colleagues on their way. My own team are chatting about luggage and are all cheerful and looking forward to meeting the whole group in Casablanca  tomorrow!
There is another team going to India just a week or two after us. Reading one of their blogs I realize how fast ones mind actually moves from phase to phase. They have just been informed about their projects and have so many questions about that. We have gone to the next step, we know a bit about our projects and have started to think about them in a more constructive way.
I am constantly being asked what I will do and when I tell people I always add that I am way out of my comfort zone, and there will be a discussion on that topic. Especially with IBM colleagues. The more we talk the more I realize that what we are doing is of course very special, but there is still an element of this in our every day life when working within a company like IBM.  We always work in multi-cultural teams. We work for many years with people from other countries that we never even meet. Changes and new set-ups are business as usual for us and learning new things is also something that is constantly ongoing.  So we are all well prepared.
And on top of that, I am 100% convinced that we will all do our very very best. That is a great start!
One of my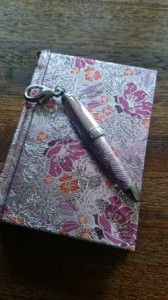 best colleagues and her sweet daughter gave me a present. The prettiest notebook . I will make sure to use it every day. I dont want to forget a thing that I learn 🙂
#ibmcsc #morocco6